Hostel "REST", located on Sołtysowska Street in the Czyżyny district, just 8 km from the Main Market Square in Krakow. We have been operating our facility since September 2007 and we are constantly growing. Currently, we have over 100 accommodation places. Each room is equipped with a bathroom, TV, and wireless internet access.
We also offer cheap accommodation starting from 30 PLN per person/night in a neighboring building mainly intended for workers. The rooms are for 3, 4, and 5 people, each with a bathroom and TV.
For longer stays and organized groups, we offer attractive discounts and bonuses.
For your convenience, we have opened a restaurant on the premises where we serve tasty and affordable meals prepared on-site.
The check-in time starts at 2:00 PM and check-out is at 12:00 PM the next day. All guests have access to a fully equipped kitchen with free coffee and tea, a dining room, and an internet-TV room. We provide free internet access, the possibility to use an iron, hairdryer, telephone, fax, and luggage storage. For Hostel Rest customers, we offer free monitored parking on-site. The reception is open 24/7. Our young and friendly staff will advise you on what to see and where to spend a pleasant time in Krakow.
We warmly invite you to take advantage of our offer during your stay in Krakow.
drive_eta
Parking dla gości
close
restaurant
Gastronomia / aneks kuchenny
check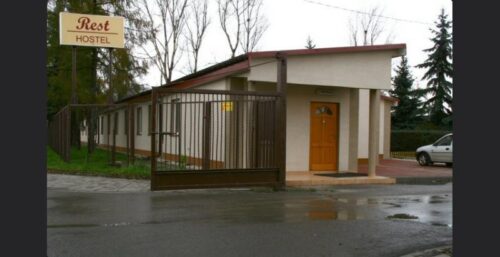 location_on Adres:
ul. Sołtysowska 37a, 31-589 Kraków
woj. Małopolskie, Polska
phone tel. +48 (12) 425 96 00, +48 513 142 410
phone tel. +48 (12) 425 96 00, +48 513 142 410
insert_linkwww.hostelrest.pl
Ilość miejsc: 100