Home
»
Hotele
» Windsor Palace Hotel & Conference Center
od: 310zł do: 440zł
Windsor Palace Hotel & Conference Center
Windsor Palace Hotel & Conference Center**** is a combination of luxury and fairy-tale dreams, wealth and elegance. Cleanliness and inviolability of forms merge with rich decorations. The charm is added by the unique location in the tranquility of a beautiful park, marina, and sandy beach.
The power of the building allows for the organization of large conferences, galas, and banquets in comfortable conditions. Attention to every detail guides us both in the decor and in the highest quality of service.
Windsor Palace Hotel & Conference Center**** is the largest conference complex on Lake Zegrzyński. For conference organizers and corporate events, we have prepared over 4500 m2 of conference and exhibition space in 37 versatile and well-equipped audiovisual rooms. Our hotel offers 178 rooms.
We offer our guests: suites (with jacuzzi and water whips), single rooms, twin and double rooms, air-conditioned rooms, free WiFi in rooms and the hotel.
Comfort and high standards are provided by:
– Satellite TV
– Telephone
– Free WiFi
– Bathroom with shower
– Air conditioning
– Room service
Additionally, hairdryers are available in all bathrooms, and an ironing set can be rented at the reception. We also have rooms adapted for disabled guests.
We warmly invite you!
drive_eta
Parking dla gości
check
restaurant
Gastronomia / aneks kuchenny
close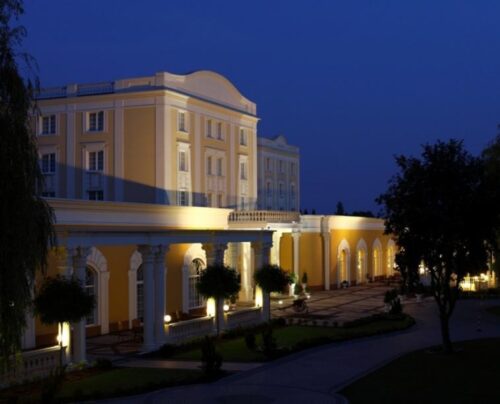 location_on Adres:
Jachranka 75, 05-140 Serock
woj. Mazowieckie, Polska
phone tel. +48 (22) 782 87 87, +48 22 782 87 01
phone tel. +48 (22) 782 87 87, +48 22 782 87 01
insert_linkwww.windsorhotel.pl
Ilość miejsc: 421