Home
»
Wellness i SPA
» Amber Cottage SPA & Wellness
od: 60zł do: 350zł
Amber Cottage SPA & Wellness
Amber Cottage is a seaside village in Mikoszewo, offering a cozy complex of two-story apartment-hotel buildings with various types of accommodation, ranging from single rooms to over 80 square meter duplex apartments. The first part of the village includes over 50 sleeping places, a year-round SPA & Wellness center, Amberwinebar & café, and other attractions. For the summer season of 2011, a special relaxation area with an outdoor pool, jacuzzi, sunbeds, and loungers will be available to our guests.
The village is located in the heart of the small tourist village of Mikoszewo, just behind the Vistula River, less than thirty kilometers from the Old Town of Gdansk and the famous seaside resort of Krynica Morska. Colorful stalls and street fast food have not yet reached Mikoszewo, which gives tourists visiting the area a unique opportunity to experience the wild fauna and flora.
In the immediate vicinity of Mikoszewo, there is the bird reserve Mewia Łacha and the Mierzeja Wiślana Landscape Park. From Amber Cottage and other neighboring holiday resorts located right next to the seaside forest, it takes a 15-minute walk to reach the sea, covering an 800-meter distance through completely forested areas and dunes.
There is one guarded beach right by the sea, as well as kilometers of wild, natural, wide beaches where everyone can find a piece of amber at any time of the year. We guarantee it. This is an ideal place specially dedicated to families and people who want to relax in a natural seaside environment, away from the hustle and bustle of big cities and large resorts, surrounded by greenery and a variety of bird fauna.
The location of Mikoszewo makes Amber Cottage an ideal starting point for a variety of hiking, cycling, motorized, and car trips. Amber Cottage, run as a family business, will host and strive to fulfill every wish of its customers.
We invite you and wish you a pleasant stay.
drive_eta
Parking dla gości
check
restaurant
Gastronomia / aneks kuchenny
check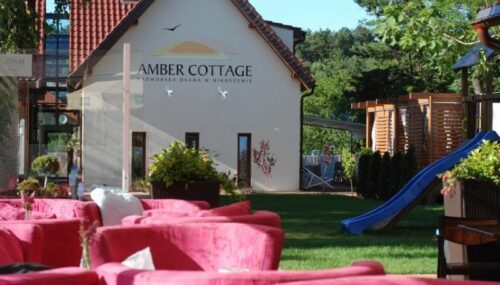 location_on Adres:
ul. Wczasowa, 82-103 Mikoszewo
woj. Pomorskie, Polska
phone tel. +48 517 762 232, +48 519 135 115
phone tel. +48 517 762 232, +48 519 135 115
insert_linkwww.ambercottage.pl
Ilość miejsc: 50